Greetings from the bidJDM team and thank you for coming back for another installment! Things have been running smoothly for us here at bidJDM but we have been noticing that the next rounds of performance tweaks to the site are taking a little longer than expected. We would like to apologize for this and assure you that there are a lot of polished tweaks coming in the future and this is our first priority.
For those of you who have heard the legends of the XR-4 or Long Champ deep dish rims then you may be interested to know that bidJDM can be a gold mine for used, super rare and very very deep dish rims. I thought I would take this blog post to highlight rims. Specifically I would like to share with you;
1. some tips on finding rims
2. some tips on how to get the best possible handling fees for the rims
3. introduce our tire removal service that will get you the best price shipping price
First, I will share with you the tip to finding the rims. The most important way to find rims you want is to know either the English name for the rim, or the model number. For this example I will search "xr4" in the search bar and here are the results.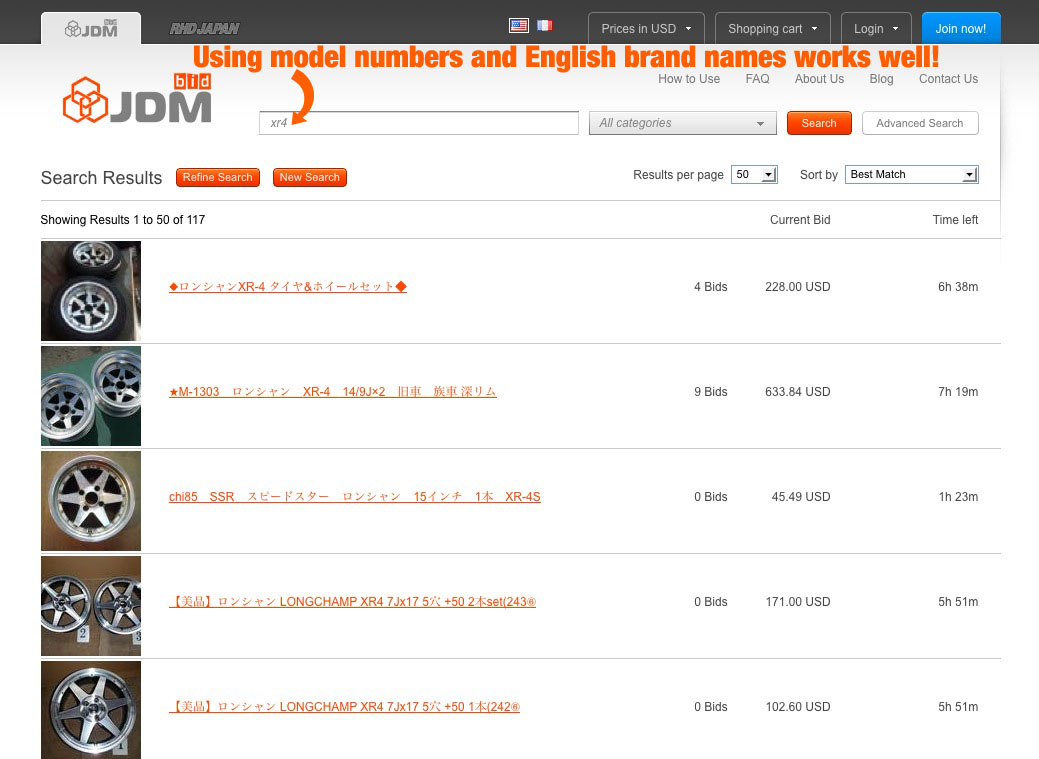 Second, I want to bring your attention to the seller location. This location will determine the handling fee. The handling fee consists of the sum of domestic shipping and handling from seller location to our warehouse (not to be confused with shipping to your house) and the bank fees. So naturally auctions in the main Island of Japan will be much much cheaper than auctions of goods where the seller is located in Okinawa or Hokkaido.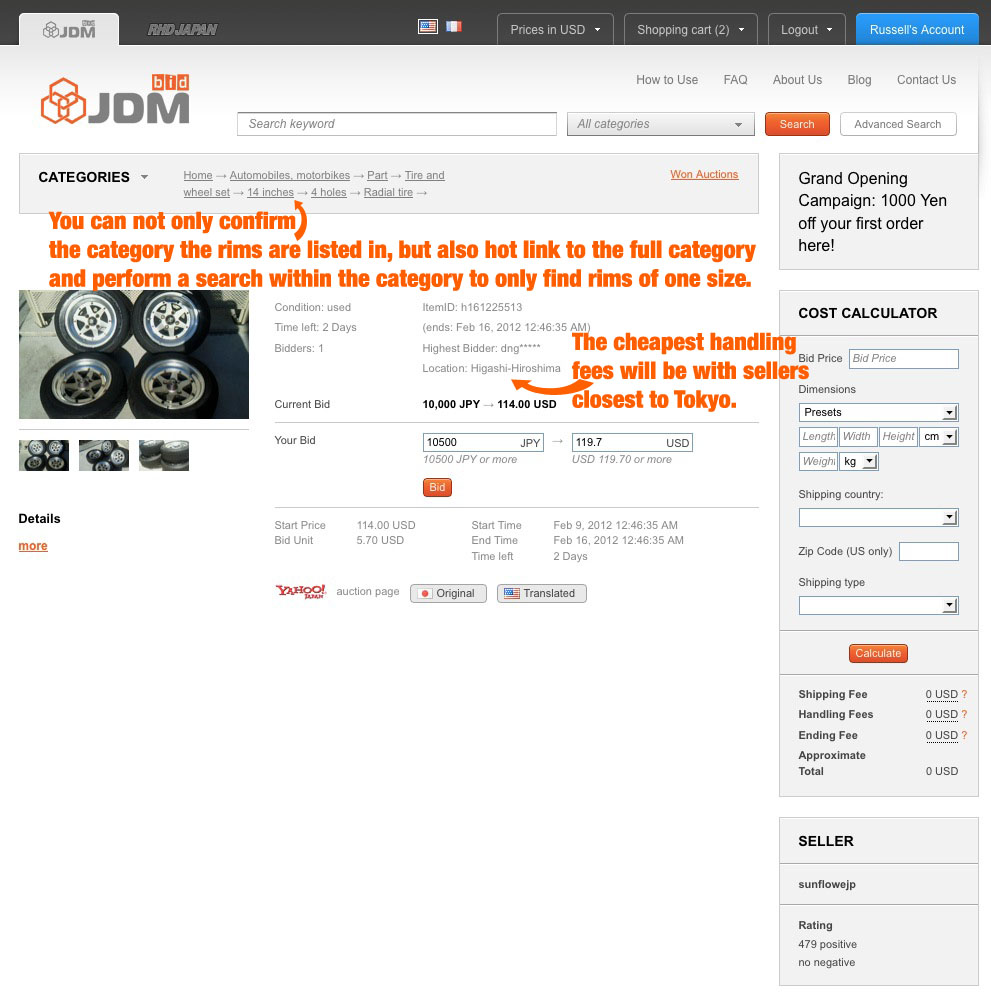 Third and final tip of the post is the tire removal and disposal service we have.  This will allow you to save hundreds of dollars on shipping as the tires make the rims extremely large and heavy. Fees are 1,100 Yen (about 13 US dollars) per tire up to 19 inch in size and 1,700 Yen (about 21 US dollars) per tire for sizes over 19 inch. Once you win your rims please contact us from the contact us page and let us know you would like to get the tires removed and we will set it all up for you no problem!
With these tips in mind and proper usage of the cost calculator robot you should be well on your way to getting the best value for money in bidJDM!
Un grand bonjour à tous de la part de toute l'équipe de bidJDM et un grand merci pour être revenu faire un tour parmi nous! Les choses se passent bien actuellement à bidJDM, mais nous nous sommes rendus compte que certaines des améliorations en cours allaient prendre un peu plus de temps pour être finalisées. Nous tenons d'ailleurs à nous excuser pour la gêne occasionnée. Soyez bien assurés que ces finitions sont notre première prioritéPour ceux d'entre vous qui ont déjà entendu parlé des légendaires XR-4, ou bien des mythiques Long Champ, ce post est peut être bien fait spécialement pour vous. J'ai voulu mettre en lumière ces articles, et en particulier partager ces informations avec vous.
1. Quelques astuces sur la façon de trouver des jantes.
2. Quelques astuces pour avoir les frais de prise en charge les moins chers.
3. Vous présenter notre service d'enlèvement de pneus et avoir ainsi le meilleur prix livraison incluse.
Premièrement, le vais vous montrer comment trouver les jantes. La meilleure façon de trouver les jantes que vous voulez est de connaître ou bien le nom en anglais des jantes que vous recherchez ou bien la référence du modèle. Pour cet exemple je saisis  XR-4 dans le champ de recherche, et voici les résultats..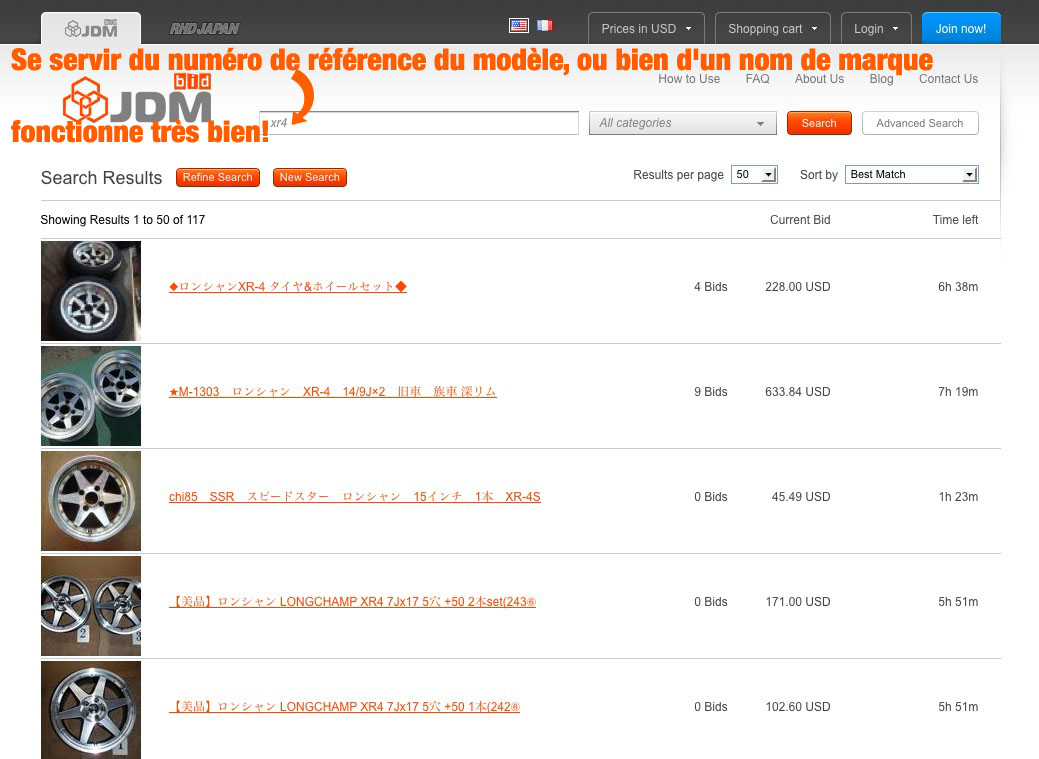 deuxièmement, je tiens à attirer votre attention sur la position géographique du vendeur. C'est cette localisation qui détermine l'importance des frais de prise en charge. Les frais de prise en charge comprennent l'ensemble des frais de port et de prise en charge depuis chez le vendeur jusqu'à notre entrepôt. (à ne pas confondre avec les frais de port jusqu'à chez vous), ainsi que les frais bancaires. C'est donc tout naturellement que les enchères qui proviennent de l'île principale du Japon seront au final beaucoup moins cher que celles en provenance de l'île d'Okinawa ou Hokkaido..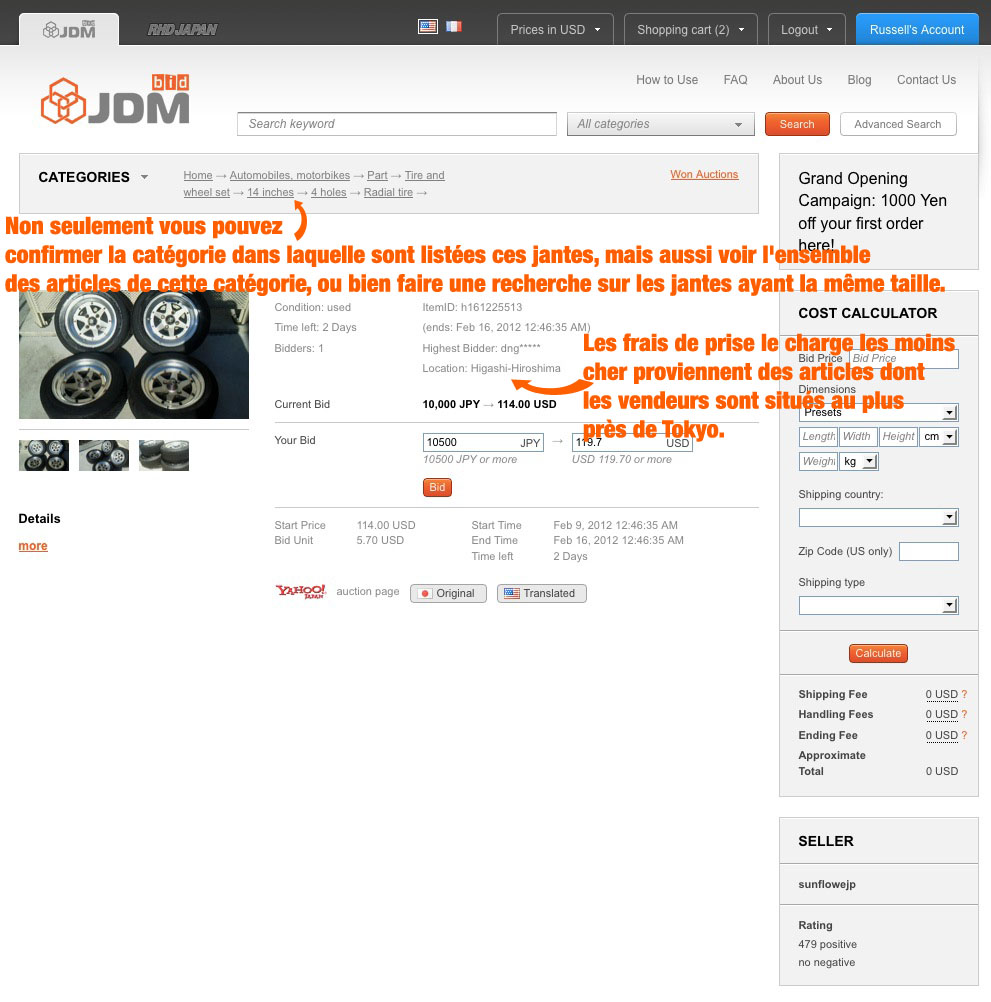 Troisièmement et dernièrement, ma dernière astuce portera sur le service d'enlèvement de pneus. Ceci va vous permettre d'économiser pas moins de quelques centaines de dollars sur les frais de port puisque les pneus changent un colis de jante en un colis beaucoup plus large et beaucoup plus lourd.
Pour retirer des pneus, les frais s'élèvent à 1100JPY par pneus jusqu'à 19' et de 1700JPY pour les jantes de 19' et plus.
Une fois que vous avez remporté une enchère avec des jantes, ,n'hésitez pas, prenez rapidement contact avec nous au travers du formulaire de contact et faites nous savoir si vous souhaitez que les jantes soient retirées, et nous saurons nous occuper de tout le reste, pas de soucis!!
Avec toutes ces astuces en tête et la possibilité de faire bon usage de notre calculateur de frais, vous devriez être en sur la bonne route pour trouver des jantes au meilleur rapport qualité prix possible.