A special gift for my Bro'
My brother's birthday is coming soon and like every year since I left my home country the question of the gift is like a torture, not too big, nor too heavy, not fragile, and more than anything else, something ... SPECIAL! As I live in Japan I don't want to send him something he can find around the corner or something Made In China.
I could easily get rid of this chore by purchasing some vouchers, but a birthday is just once a year and we don't even meet so often.
But what you really need to know is that I've found THE idea!
When we were kids, he used to be very fond of a Japanese anime named 'Hokuto no Ken'
And as I keep on saying, on bidJDM.com you can find anything and everything Japanese, so I jumped in, peacefully and far from the crowd of a packed store.
Let's recap, a gift that have to be:
Small
Not heavy
Authentic
Personalized
SPECIAL
and
MADE IN JAPAN!
I have found in the anime - manga / cell a set of 50 drawing of this anime, it is uncommon, genuine, the weight is low, and it is just perfect!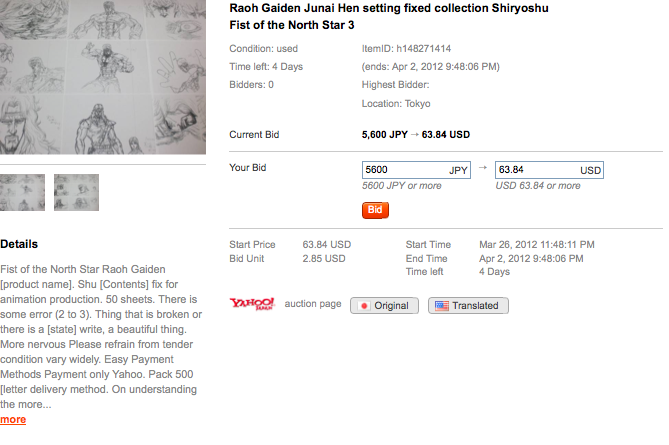 I estimate the fees :
size should be 21 x 15 x 3 (I took 25 A4 sheets I folded in 2)
for the weight I go up to 800 grams as I am sure it is going to be well protected and made rigid for the shipment.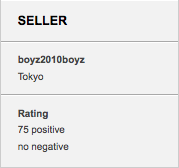 the seller has 75 positive ratings, no reason to doubt anymore, total estimated is $114.89
The budget is reasonable for a special gift for a special person. There is 3 weeks before the D(B)-Day, I am not in a rush, bidJDM is going to care of everything for me, everything is going to be fine, the chore is over, the best possible way, thank you bidJDM, and happy B-Day, bro' !!
Un cadeau original pour mon frère
Mon grand frère va prochainement fêter son anniversaire et comme tous les ans depuis que je me suis expatriée la question du cadeau à expédier est une vraie torture, de préférence pas trop lourd, et pas trop gros non plus, pas fragile et surtout, surtout, surtout, quelque chose d'original, et comme je vis au Japon j'ai pas envie de lui faire expédier quelque chose qu'il peut trouver en bas de chez lui ou qui soit made in China!!
Je pourrais me débarrasser de la corvée facilement avec un bon d'achat ou autre cadeau du même tonneau, mais j'essaye de faire les choses bien, surtout quand ça n'arrive qu'une fois par an!
Tout cela pour vous dire que j'ai trouvé ZE idée pour cette année!
Quand on était gamin, il nourrissait une passion que je trouvais quelque peu exagérée pour l'animé Ken, le survivant, plus connu sous le nom de 'hokuto no ken' ici au pays du soleil levant.
Et comme je ne me lasserais jamais de le dire, on trouve de tout et surtout tout sur bidJDM.com, c'est donc là bas que je fais mon shopping loin de la foule et en prenant mon temps.
on récapitule, un cadeau qui soit :
petit
pas lourd,
personnalisé,
original,
authentique,
et
MADE IN JAPAN!
J'ai trouvé dans la rubrique animé- manga / cellulo un jeu de 50 crayonnés de la série, c'est rare, c'est original, ça pèse rien ou presque et c'est juste parfait!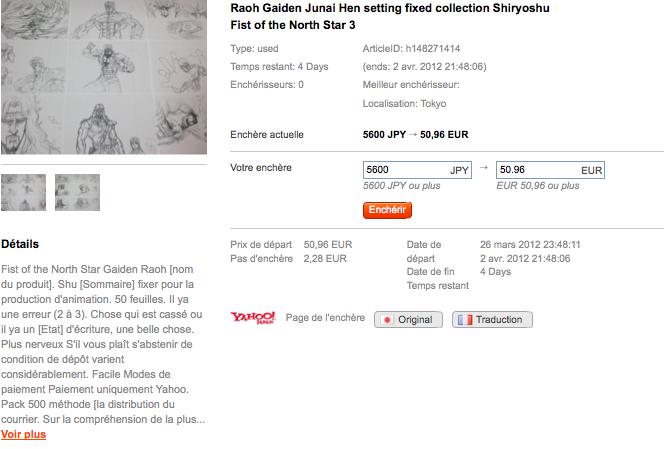 Je calcule les frais avec l'outil dédié :
J'estime la taille à 21 x 15  cm sur 3 cm (J'ai pris 25 feuilles A4 que j'ai plié en 2)
et pour le poids, je monte à 800 grammes, parce que je sais que le tout sera bien protégé et rigidifié.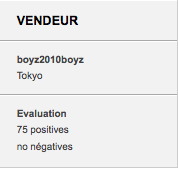 Le vendeur a 75 évaluations positives, pas de négatives, le total estimé est de 94,49 euros.
Cela me fait un budget de moins de 100 euros pour un cadeau que je trouve bien sympathique.
Et j'ai 3 semaines devant moi avant le jour J, je suis donc parfaitement dans les temps.
Merci bidJDM, et bon anniversaire frangin!