Greetings from the bidJDM blog and team. As we have been getting questions about how much we thing a particular auction will cost with shipping and final fees we decided to highlight our beloved cost calculating robot!
This little robot lives on the right hand colum of every auction page and is waiting for you to fill it with bid prices and dimensions. As you can see from the picture below the first step is to enter the price that you are planning on bidding. Be sure that you note the currency because if the page is set to Euro and you enter the Yen bid price the total will not display correctly. You can check this to be sure at the top of the page in the first tab drop down.
Moving on, we get get to the dimensions field. There is a drop down with preset dimensions. These are average sizes of some of the most popular items we ship. If there is not one that you need all is not lost. The best way to get dimensions is to find an item that is similar to the one you would like to purchase and measure it. For example if you are interested in purchasing a cool new pair of  Evisu Jeans  (the hottest Japanese jeans out there). Then all you would need to do is pull out a pair of your old jeans from the closet, fold them up, put them in a box that fits them and measure the box. Voilà, you have your dimensions!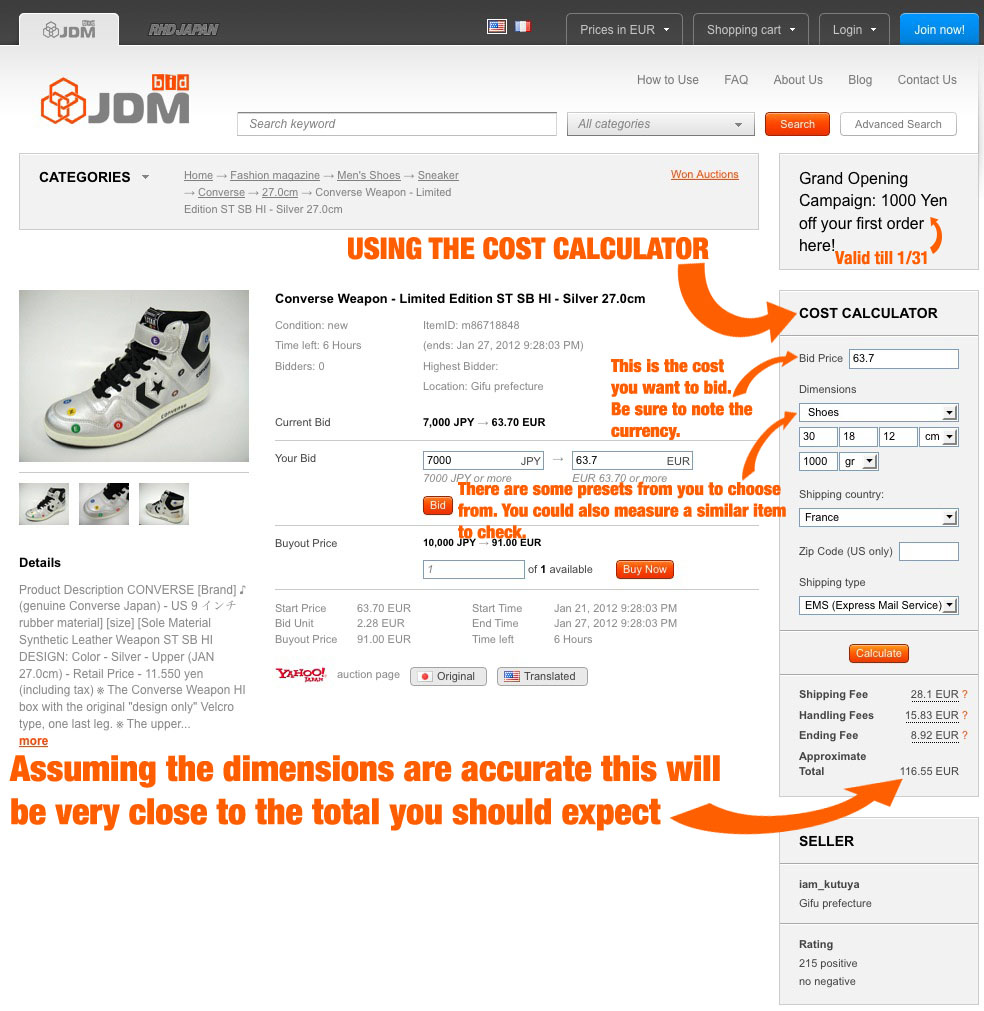 Now the rest is a piece of cake. Just choose your shipping country and shipping service then push Calculate! If you are interested about what exactly is involved with regards to the fees you can simply hover your mouse over the question mark to the right of the amounts.
Hopefully you can now put our beloved cost calculator to work for you too!  Please note that we still have our campaign going on in which you will get 1000 yen off your first order with bidJDM. This will last until the end of Jan. Thank you for coming and stay tuned for more great things at bidJDM!!
Un grand bonjour à tous de la part de toute l'équipe du Blog et de bidJDM. Comme nous avons été beaucoup interrogé sur le prix final de telle ou telle enchère, nous avons décidé de vous présenter notre calculateur de frais, dont nous ne sommes pas peu fiers!
Ce petit outil prend place sur chaque page de chaque enchère, sur la colonne de droite et il ne vous reste alors plus qu'à le remplir avec le montant de l'enchère et les dimensions de l'objet. Ainsi que vous pouvez le constater sur l'image ci dessous, la première chose à faire est de saisir le montant que vous comptez placer pour cette enchère. Faites bien attention à la devise, en effet si la page courante est définie en Euro et que vous saisissez le montant de l'enchère en Yen, vous risquez d'avoir une mauvaise surprise et surtout les données que vous aurez à l'écran seront parfaitement erronées! Il  vous suffit de regarder en haut de la page, et c'est modifiable dans le premier onglet grâce à une liste déroulante.
Ensuite, il faut remplir les champs qui concernent les dimensions de l'objet. Il y a une liste déroulante avec des dimensions pré-établies pour des articles parmi ceux que nous expédions le plus fréquemment. Si il n'y a rien qui vous convienne, pas de panique, rien n'est perdu! Le plus simple c'est simplement de trouver un article similaire à celui que vous briguez et de le peser et mesurer vous même! Par exemple, si vous souhaitez acheter un Jean de la marque Evisu  (Evisu c'est LA marque de Jean ici au Japon!). Ensuite, tout ce qu'il vous reste à faire c'est de prendre un de vos vieux jean dans le placard, de le plier en 4, le jeter dans une boite puis de peser et mesurer le tout. Et voilà, vous avez toutes vos dimensions!!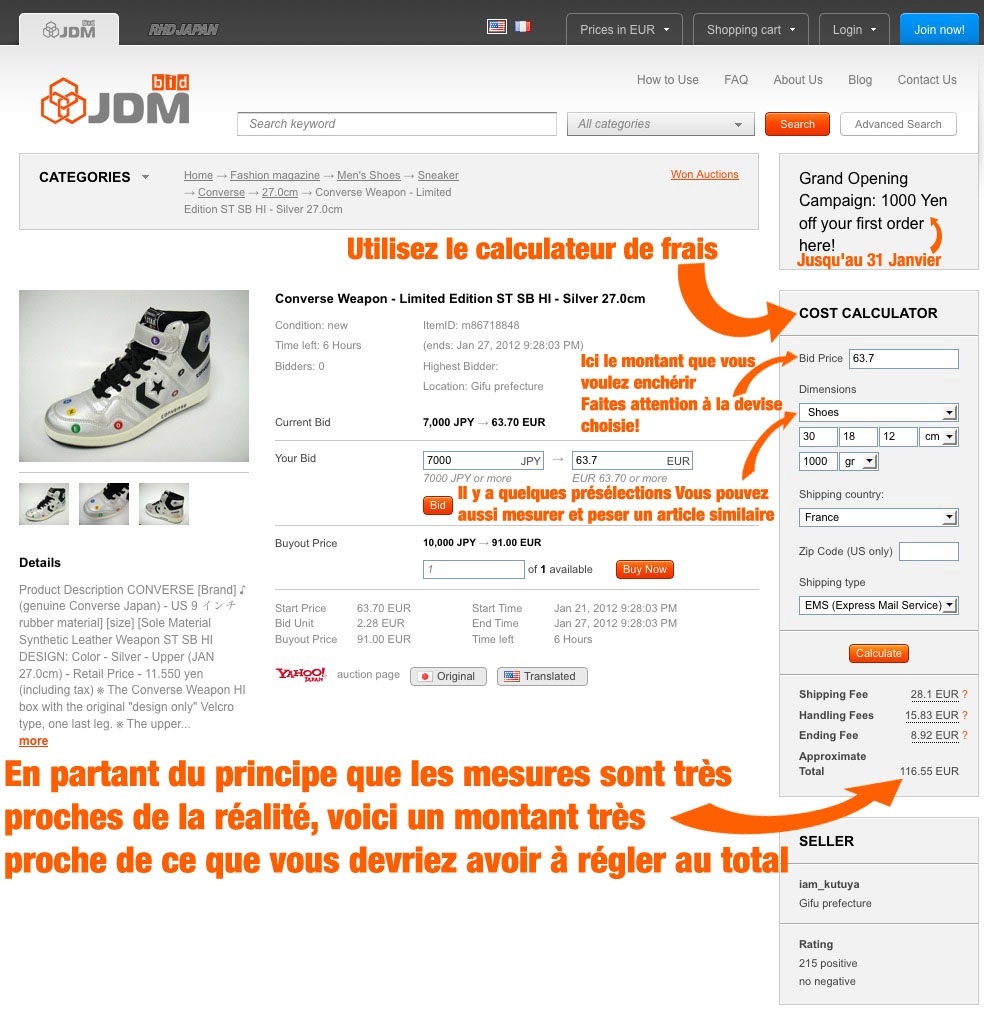 Maintenant le plus dur est fait. Il vous reste à choisir votre pays de destination ainsi que le service d'expédition que vous souhaitez utiliser puis cliquez sur Calculer!! Si vous souhaitez savoir exactement comment sont calculés les frais, il vous suffit de faire passer votre souris sur le point d'interrogation qui est juste à côté du montant qui est affiché.
Vous êtes parfaitement prêts maintenant à utiliser notre calculateur de coûts, et il est prêt également à vous servir!! Merci encore à vous d'être passé dans le coin, et surtout, surtout, restez fidèles au poste pour être sûr de ne rien manquer de l'ensemble des offres formidables que bidJDM a à vous offrir !!!