I think it is always interesting to have the opportunity to discover some new sounds, a new voice, something new to please my ears!
In Japan the musical scene is huge and very interesting, and I am sure that some of you already hummed some songs of Mr. Children, or yelled Linda-Linda of the Blues Hearts jumping all around, that is why it would be so unfair if I would keep for myself all the information I have about all the great things bidJDM can provide you about it.
Exceptionally today, I am not going to bother you with the use of the cost calculator as the average size for a CD/DVD is included in the presets.
So, you can find those T-Shirt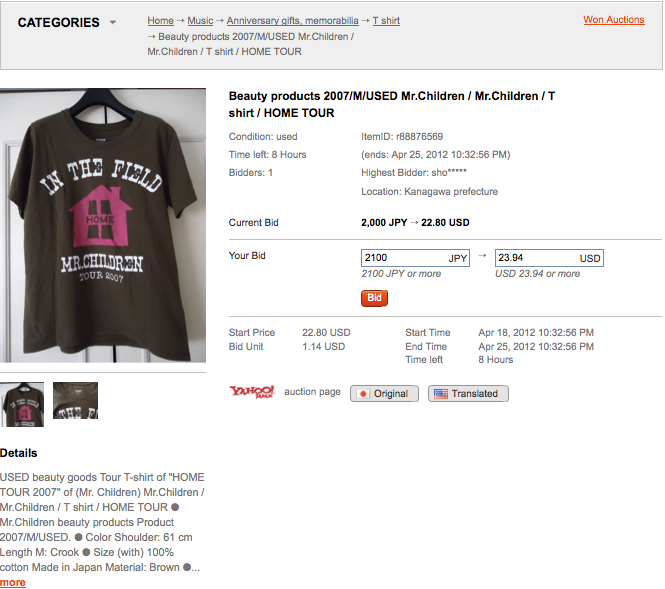 Some straps for your cell phone?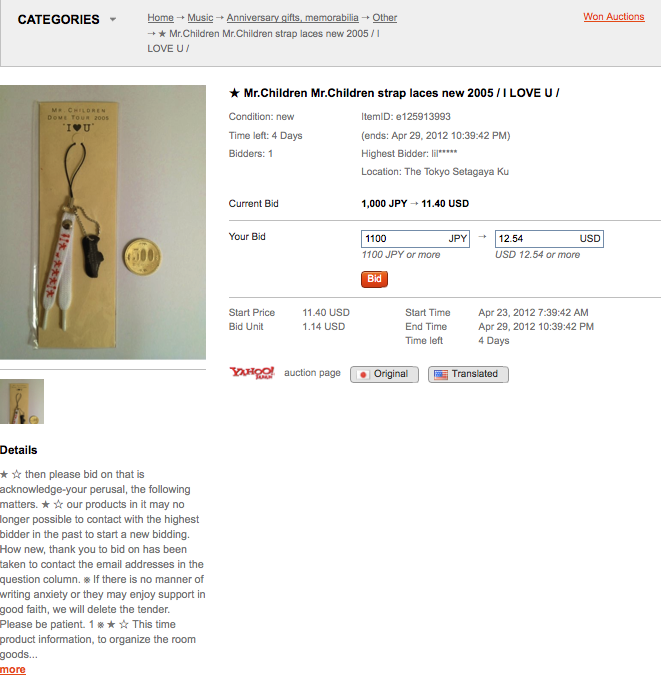 Some collectors edition, limited availability, released only in Japan ...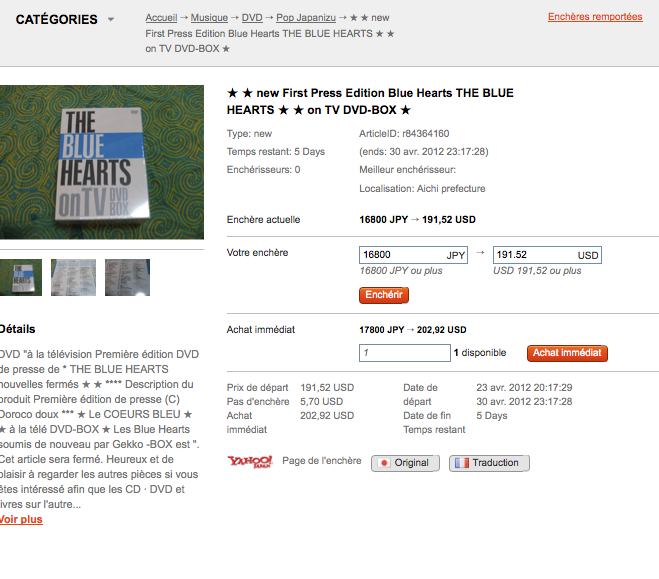 And if you're dreaming of traveling in Japan some day, and you wish to get a chance to shine at Karaoke, bidJDM can even provide you with some karaoke edition of your favorite brands, here the Blue Hearts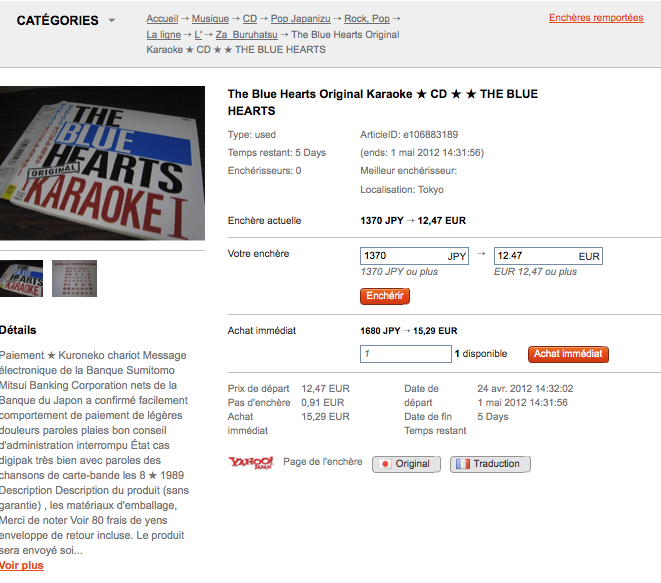 As always, those items are findable here only, for a reasonable price, transparent fees and delivered directly home!
Stay tune to this Blog to find more and more interesting items!
Next week is the Golden week, in observance of those national holiday, bidJDM team will be away from office, but not too away from their computers ...
Il m'est toujours très agréable de découvrir un son un peu nouveau, une voix qui m'interpelle, des arrangements qui m'interressent et en règle générale de faire plaisir à mes oreilles.
Alors comme je suis sure que nombre d'entre vous chantonnent et sifflotent au moins de temps en temps du Mr Children ou bien se sont mis à chanter à tue tête Linda-Linda des Blue Heart en sautant partout, ce serait trop injuste de garder pour moi ce que bidJDM peut vous offrir à ce sujet.
Je ne vais pas vous embêter avec le calculateur de coût cette fois, surtout que la taille standard d'un CD est dans la présélection.
Alors en vrac vous trouverez les CD que vous cherchez et les goodies afférents, tels ces T-shirts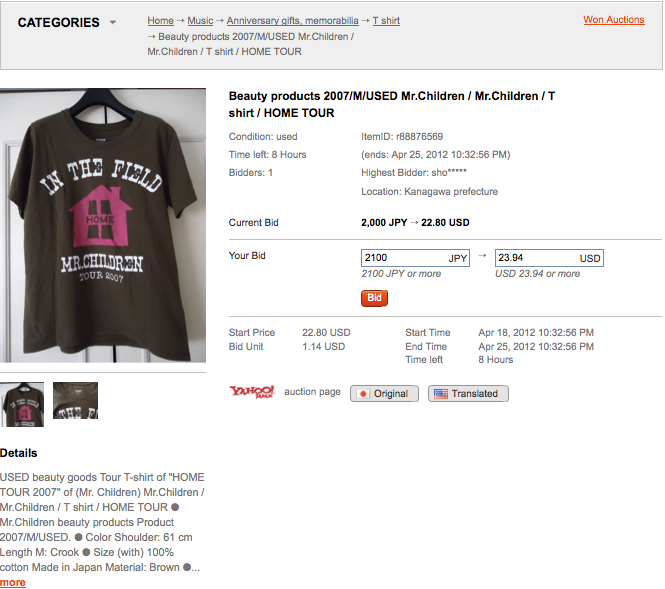 Des straps pour votre téléphone portable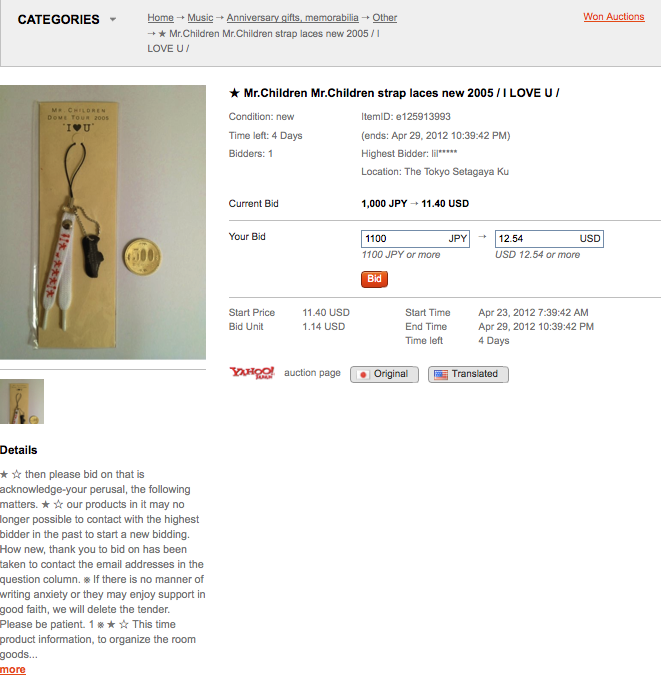 Ces coffrets collectors édités en quantité limités et introuvables hors Japon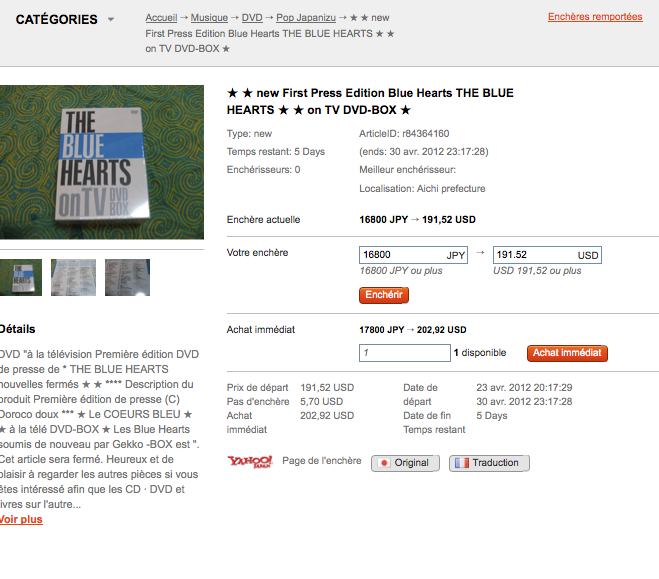 Et si vous carressez l'espoir de briller au lors de votre prochain voyage au Japon, bidJDM vous permet également d'acquérir une édition karaoké des plus grands tubes des blue hearts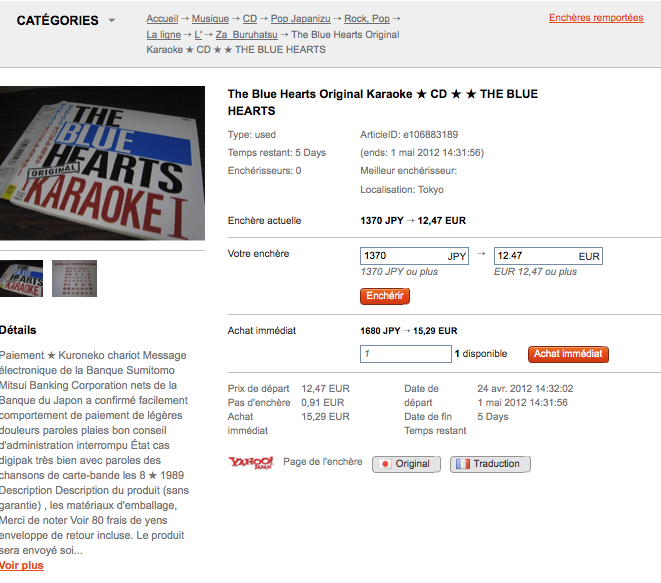 Comme d'habitude, ces articles ne sont trouvables qu'ici, à un tarif abordable, transparent et raisonnable, livré s directement à la maison!
Restez fidèles au Blog pour profiter encore et encore de toutes nos astuces!