Hello and Welcome back to the bidJDM Blog!
I have found out something that highlights exactly why bidJDM exists. Who ever you are, whatever you like, Japan has something special for you!
And I am sure that among you some are pretty good guitarist who worship Jimmy Page, or Jimmy Hendricks, Clapton or David Gilmour, or any other among the greatest guitarists who walked this world! So if you are looking for a truly original perfect guitar for you, I am sure you heard about the JV (Japan Vintage) series of Fender guitars in Japan. You probably know as well however how crazily expensive they are at your local shop if you are one of the lucky ones out there who can find one in a local shop. Or perhaps you have dreamed about going to Japan just to pick one up.  The price of the plane ticket to buy it yourself here is definitely not cost effective, and it is without adding the fees to check it in the plane with you (I paid almost an arm to check My Gibson les Paul Studio!!!!)
The JV Stratocaster by Fender was a true replica's of the vintage 1962 and 1957 guitars, and there is no need to advertise the quality of the hand crafting in Japan, they truly make fine instruments here regardless of what it is. So that is why the MIJ (Made In Japan) guitars can easily go head to head with a Custom Shop (CS) one in terms of craftmanship!
Ready to see a good deal ? All you need to do is search "JV Fender" in the bidJDM site.
Here it is :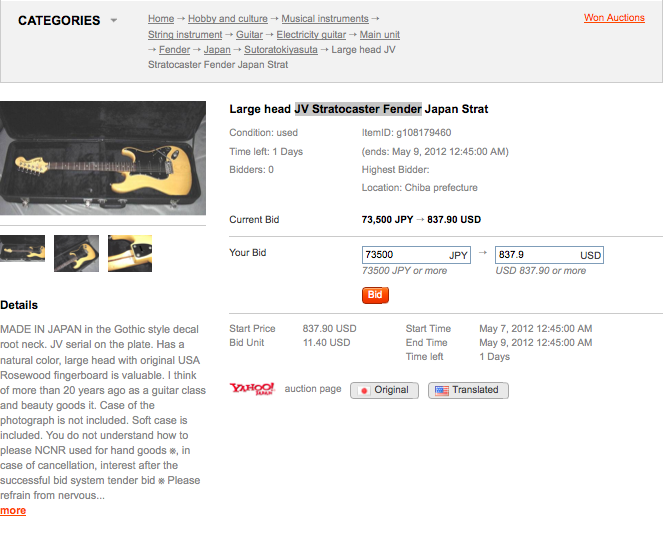 I am sure you are totally seduced now by such an offer, and that you begin to understand all the wealth Japan can provide you, and how bidJDM is definitely the best tool for it!!

For less than 1200$ this jewel of sound and craft is delivered to your door!
In the case you still are not convinced, well let's meet next week, just here, on bidJDM's blog!!
Bonjour et bienvenue sur le blog de bidJDM!!
Je viens de dénicher quelque chose qui va expliciter parfaitement la raison d'être de bidJDM. Qui que vous soyez, quoi que ce soit que vous aimiez, quoi que ce soit qui vous fasse vibrer, le japon a quelque chose pour vous!
Je suis intimement persuadée que parmi vous se cachent quelques excellents guitariste vouant en secret ou non un culte à Jimmy Page ou Hendricks, Clapton ou Gilmour, ou n'importe lequel des grands guitaristes ayant jamais foulé le sol de notre bonne vieille terre! du coup si vous cherchez une guitare originale et parfaitement parfaite pour vous, je suis sure que vous avez entendu parlé des séries JV (Joint Venture) de chez Fender. Bien sur c'est ou totalement exorbitant comme prix, ou le prix du billet d'avion + du surcoût pour cet article va vous ruiner pour les 10 années à venir!!
Ainsi la JV stratocaster de Fender is une réplique très fidèle du modèle vintage de 1963 et 1957, et il n'est nul besoin de faire la promotion du savoir faire japonais, ils font vraiment des instruments magnifiques ici, et c'est certainement pourquoi les guitares MIJ peuvent facilement rivaliser sans honte avec les Custom Shop (CS) en terme de qualité d'artisanat!!
Prêt à profiter de la bonne offre du jour ?
C'est par ici :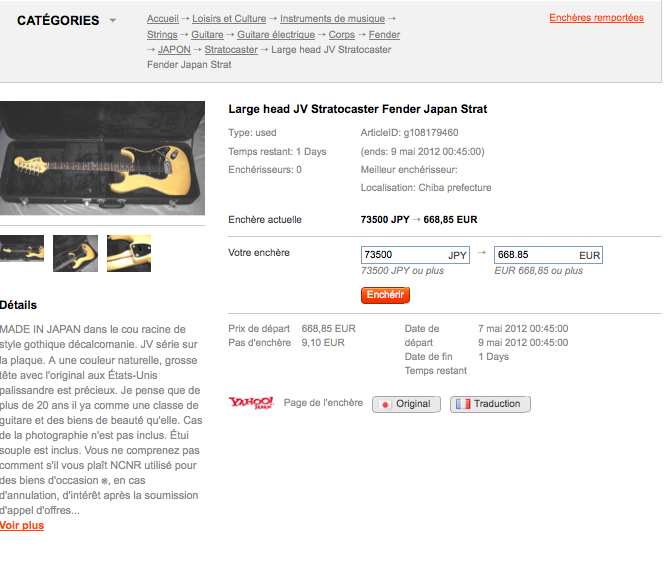 Je suis sure que vous êtes maintenant totalement séduits par cet offre et que vous commencez à comprendre la richesse du Japon et tout ce que bidJDM peut faire pour vous !!

Pour moins de 1000 euros c'est livré à la maison, et au cas où je ne vous aurais pas encore convaincu, je vous donne rendez vous ici même la semaine prochaine !!